Promotional SPRINGboards!
Put the final topping on your Promotions ...
Well sit back and enjoy a stress- free visit that won't break the budget. We are mobile friendly and responsive anywhere you go at ANY time. Our Advanced Search engine also helps you to find products by category or theme and using keywords (specific descriptions), colors, plus your pricing range.
We're an SBA- certified, provider of Imprinted Items, Wearables, Gifts, Premiums, Awards/Plaques, Trade Show/Conference Supplies, Jewelry, and Employee Incentive programs with access to over 8,000 suppliers.
Some added benefits to working with us:
In addition to our every day, discounted pricing on thousands of different products, you get great quality, low purchasing minimums, and hard to find items. Check with us for new Closeouts and Specials EVERY day!
Get up to 80% off plus FREE samples (shipped on your FedEx or UPS account), FREE Set-ups, and 10% FREE goods. Call for availability of closeouts. Don't forget to check our Additional Closeouts where a wide array of products on closeout are also easily accessed.
If you need help, please contact us mdi@logoitems.com.
We are available 24 hours a day and your requests will always be answered quickly. Thanks for the visit. We look forward to gaining your trust and supplying you with creative ideas.
We are what we repeatedly do. Excellence, therefore, is not an act but a HABIT.

Aristotle
Fresh Ideas for 2018!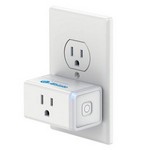 TP-Link Wi-Fi Smart Wi-Fi Plug Mini
Control From Anywhere - Turn electronics on/off from anywhere with mobile devices using the Kasa app (iOS, Android). Keep Outlets Free - Compact design blends into your power outlet without blocking a...
$41.77
What Our Customers Are Saying

Mr. Rivas is honest in all transactions, courteous in the most difficult situations, dedicated to finding the lowest prices, and committed to providing the best service. Should you decide to let Marke...
A. Moody
PROFESSIONAL & SCIENTIC ASSO.
Take advantage of the FREE Ground Shipping with these classics!