Allow your SUMMER promotions to SIZZLE!
Tweak your Promotions 'til they pique ...
Looking for a way to stretch your advertising dollar? Interested in a different DAILY dose of Closeouts and Specials?
Well sit back and enjoy a stress- free visit that won't break the budget. We are mobile friendly and responsive anywhere you go at ANY time. Our Advanced Search engine also helps you to find products by category or theme and using keywords (specific descriptions), colors, plus your pricing range.
We're an SBA- certified, provider of Imprinted Items, Wearables, Gifts, Premiums, Awards/Plaques, Trade Show/Conference Supplies, Jewelry, and Employee Incentive programs with access to over 8,000 suppliers.
Some added benefits to working with us:
In addition to our every day, discounted pricing on thousands of different products, you get great quality, low purchasing minimums, and hard to find items. Check with us for new Closeouts and Specials EVERY day!
Get up to 80% off plus FREE samples (shipped on your FedEx or UPS account), FREE Set-ups, and 10% FREE goods. Call for availability of closeouts. Don't forget to check our Additional Closeouts where a wide array of products on closeout are also easily accessed.
If you need help, please contact us mdi@logoitems.com.
We are available 24 hours a day and your requests will always be answered quickly. Thanks for the visit. We look forward to gaining your trust and supplying you with creative ideas.
We are what we repeatedly do.
Excellence, therefore, is not an act but a HABIT ~~~

Aristotle
What Our Clients Are Saying

The promotional items for our national gift program are obtained from Marketing Dynamics. They are prompt, courteous, and always provide the best product at the best price. We recommend them to all po...
B. Macaluso
NATIONAL CONTRACT MANAGEMENT ASSOCIATION
Fresh Ideas for 2018!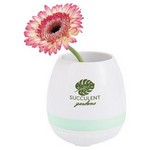 Green Thumb Flower Pot Bluetooth® Speak...
Enjoy music on your patio, deck, at poolside, or in the yard with Green Thumb Flower Pot Bluetooth Speaker. The Speaker is a flowerpot music system that contains one speaker and a Bluetooth receiver, ...
$17.13 - $21.59
Take advantage of the FREE Ground Shipping with these classics!